Dr Pat Lim, she is the first to integrate Chinese medicine and western medicine treatment in Ophthalmology in Singapore. Dr Pat Lim has graduated with a Diploma in Optometry with Singapore Polytechnic, and later pursued her Bachelor of Science in Optometry and Master of Science in Clinical Optometry with Pennsylvania College of Optometry, Salus University, USA and a Medical Doctorate degree in Western Medicine integrated with Chinese Medicine in Ophthalmology with Beijing University of Chinese Medicine.
She has been in the practice for 25 years and specializes in using Chinese Medicine to treat eye diseases.
At present, she is the Consultant Physician and head of the Ophthalmology Department at Singapore Chung Hwa Medical Institution. She is also the Board Vice Chairman and Medical Affairs Chairperson of Singapore Chung Hwa Medical Institution.
She has also been elected as the Vice President of Specialty Committee of Ophthalmology of World Federation of Chinese Medicine Societies since July 2016. She has been partnered with the Singapore Polytechnic and Ngee Ann polytechnic, to be their industrial partner, to give internships to their optometry students at her private practice as well as at Singapore Chung Hwa Medical Institution.
林秋霞主任医师是新加坡第一位执行中西医结合眼科的先驱者。 她目前是世界中联眼科专业委员会副会长、新加坡中医师公会副会长、新加坡中华医院(SCHMI)董事会副主席兼医务委员会主席,她也是新加坡中华医院中医眼科专病研究组的主任。 林秋霞主任医师毕业于新加坡理工学院,并在美国萨卢斯大学宾夕法尼亚视光学院分别获得视光学理学士和临床视光学硕士学位。在完成基础和高级视光学的培训后,她继续前往北京中医药大学深造,完成了中西医结合临床医学(眼科)博士学位。 林秋霞主任一直积极参与提高群众对中医眼科的认识。
She was awarded by Ministry of Health, Singapore in 2014 to the first ever national TCM Clinical Research Study Grant to collaborate with Singapore Eye Research Institute (SERI), to conduct a dry eye clinical research study using Chinese medicine and acupuncture to treat dry eye in Singapore and the full study paper has been successfully published by BMJ Open Ophthalmology on June 18th, 2018.
She was accredited by the World Federation of Chinese Medicine Societies to hold the higher credential of being a Consultant Physician/Professor in October 22nd, 2017.
她于2014年被新加坡卫生部颁予首次设立的第一轮中医科研基金,与新加坡眼科研究中心(Singapore Eye Research Institute SERI)合作, 探讨中西医结合治疗干眼的方案,。这项研究招募了150名参与者,参与中医药物与中医针刺干眼治疗疗效。 科研结果显示中医治疗疗效比常规治疗干眼明显有效。此科研成果报告已经被英国医药期刊属下的眼科期刊在2019年6月18日做全球国际发布。 除了临床看诊及科研工作之外,林秋霞主任医师对教学也有着浓厚的兴趣。林医师在过去的18年一直是新加坡理工学院和义安理工学院视光学系的校外临床指导导师,多年来为我国在临床上培训了无数的眼科视光学新进人才。 她在过去的多年曾多次在视光学的继续教育课程讲座里,积极广宣中医眼科,培训我国的配镜师和眼科视光学师对中医眼科的认识。 除此之外,林秋霞主任医师也非常踊跃地参与眼科普检活动和眼睛健康讲座。 她长期固定在在中医慈善机构当志愿义务眼科医师,为弱势病人人群进行无偿的眼科检查及治疗服务。她坚信定期的眼科检查可以有效地预防失明。 2017 年10月,林秋霞主任医师通过世界中医药联合学会 (World Federation of Chinese Medicine Societies, WFCMS)的考核,被颁发于主任医师/教授的高级技术鉴定职称。
Our Chinese medicine treatment services in ophthalmology
(To complement with Western medicine treatment)
Dry eye
Conjuntivitis
Scleritis
Uveitis
Vitreous Degeneration
Epiphoria
Macular Degeneration
Macular Oedema
Epi Retinal Membrane (ERM)
Diabetic Retinopathy
Corneal Erosion
Glaucoma
Retinal Arteries/Veins Occlusion
Retinal Detachment (post surgery)
AION/PION
LHON
Retinitis Pigmentosa
Traumatic Optic Neuropathy
Oculomotor muscle palsy
Diplopia
Neuritis
Optic Nerve Atrophy
Children myopia
Myopia progression
Blepharospasm
Blepharitis
Bell Palsy
Others
干眼
结膜炎
巩膜炎
葡萄膜炎
飞蚊症
流泪症
黄斑病变
黄斑水肿
黄斑前膜
糖尿病视网膜病变
角膜溃疡
青光眼
视网膜血管阻塞疾病
视网膜脱离 (术后调理)
缺血性视神经病变
利伯遗传性视神经病变
视网膜色素变性
外伤性视神经病变
眼肌病变
复视
视神经炎
视神经萎缩
儿童、青少年近视
高度近视视网膜病变
眼睑痉挛
睑缘炎
面瘫, 口眼歪斜
其他眼科疾病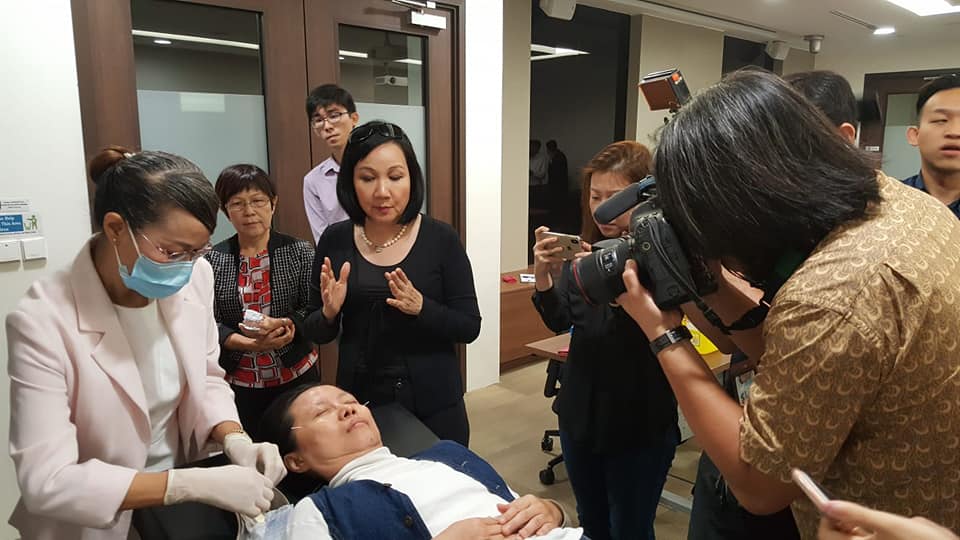 Qualifications
Diploma in Optometry – Singapore Polytechnic
Bachelor of Science in Optometry – Pennsylvania College of Optometry, Salus University, USA
Master in Clinical Optometry – Pennsylvania College of Optometry, Salus University, USA
Medical Doctorate, Western medicine integrated with Chinese Medicine in Ophthalmology - Beijing University of Chinese Medicine (BUCM)
学历
眼科视光学专业文凭 – 新加坡理工学院
眼科视光学学士学位 – 美国萨卢斯大学宾夕法尼亚眼科视光学学院
眼科视光学硕士学位 – 美国萨卢斯大学宾夕法尼亚眼科视光学学院
眼科医学博士学位 – 北京中医药大学, 中西医结合临床东方医院眼科部门
Credentials
Vice President, World Federation of Chinese Medicine Society (WFCMS) Specialty in Ophthalmology
Vice President, Singapore Chinese Physicians' Association
Board Vice Chairman, Singapore Chung Hwa Medical Institution
Chairman, Singapore Chung Hwa Medical Institution (SCHMI) Medical Affairs
Head, Singapore Chung Hwa Medical Institution Ophthalmology
Consultant Physician, Singapore Chung Hwa Medical Institution
职衔
世界中联眼科专业委员会副会长
新加坡中医师公会副会长
新加坡 中华医院董事会副主席
新加坡中华医院医务委员会主席
新加坡中华医院眼科专病研究组组长
新加坡中华医院主任医师